OPPLE Lighting and Mustafa Sultan Enterprises hold launch
Event in Muscat
Muscat, Oman, August 12, 2015 – OPPLE Lighting and Mustafa Sultan Enterprises have concluded OPPLE's official introduction to the Omani market held at the Crowne Plaza, Muscat.  The event was attended by over fifty trade professionals who were very much intrigued by OPPLE's quality products and the promising partnership formed with Mustafa Sultan Enterprises, a leading conglomerate in Oman, which has represented multinational brands including Haier, Samsung, Huawei, Philips and Fujitsu.
DP Smedema, General Manager Middle East at OPPLE Lighting stated in his opening speech, "We, as a brand, are forward thinking and quality-focused therefore our partners should be the same.  We are glad to be present in the Omani market collaborating with Mustafa Sultan and will ensure you are equipped to be the best possible ambassadors of OPPLE."  Mr. Shabir Sultan, Executive Director and Owner of Mustapha Sultan Enterprises who was also present mirrored this sentiment.
Following Mustafa Sultan and OPPLE Lighting's company introductions, the attendees were invited to experience the products first hand followed by dinner and a raffle.  The attendees were most impressed by OPPLE Lighting's global exposure and strong project references in both the Middle East and European markets with brands such as Movenpick, Adidas, Mercedes, Burger King and KFC among its partners.  OPPLE's new Slim Downlight was recognized as a particularly attractive product for the Omani market due its efficiency in replacing CFL downlights and halogen spots used for general lighting.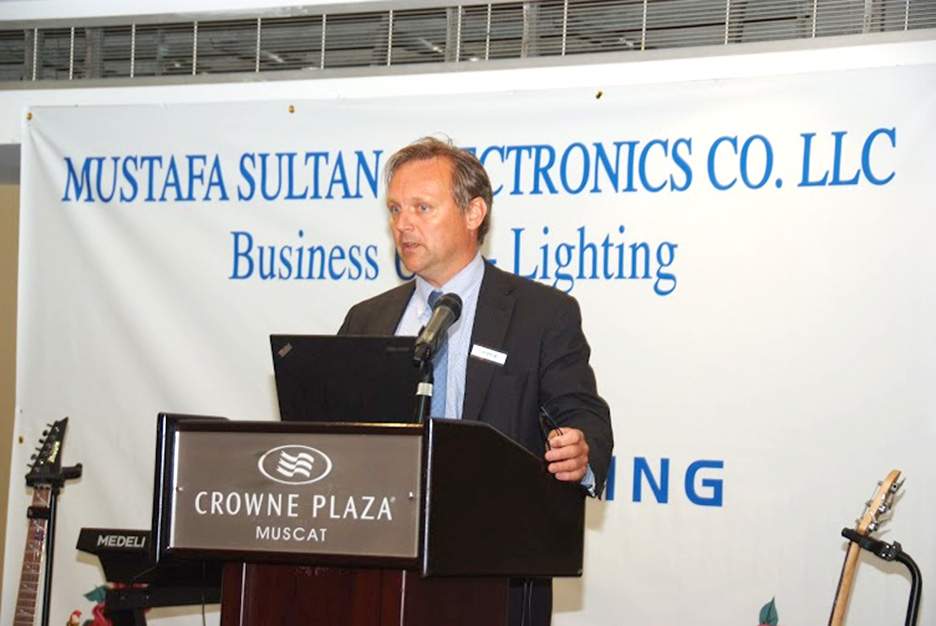 The event concluded with a farewell by Mr. Shabir Sultan, who reinforced a shared vision between OPPLE Lighting and Mustafa Sultan and echoed excitement for sustained success of OPPLE in the Omani market.
About Mustafa Sultan Enterprises
Committed to its vision since its inception in 1972, Mustafa Sultan Enterprises has emerged as a premier group in the Sultanate of Oman. It has a glorious entrepreneurial history spurred by the dreams and ambitions of Mustafa A. Sultan. Mustafa Sultan Enterprises today has diversified interests and is organized into various subsidiaries, each an achiever, each an example of commitment to the highest ethical and professional standards.   Mustafa Sultan's business interests are as diversified as Consumer Electronics, Security & Communications, Medical and Industrial Equipment, Consumer and Industrial Lighting, Telecommunications and VSAT, Information Technology, Office Equipment, Defense Supplies, Restaurants, Money Exchange, Insurance, Real Estate, Entertainment, Air-Conditioning, and Logistics to name a few.