OPPLE Lighting Unveils Branding Campaign to Boost Presence in Thailand Market
OPPLE Lighting, a leading lighting manufacturer based in Shanghai, China, recently launched a branding campaign extending point of sales with aggressive promotion in Bangkok, Thailand, with an aim to enhance the brand awareness, help the terminal stores improve their images and boost sales, and introduce OPPLE LED products to the consumers.
OPPLE Star product introduced by the Thailand Campaign (All photos courtesy of Opple Lighting)
The one-month branding campaign which started on August 16, 2015 will end on September 18. During the past two weeks, OPPLE Lighting assigned four special groups to send out POS branding material and visit local dealers to sell out every day. Each group consists of a salesperson from Thailand EINDHOVEN ELECTRONICS LTD., a local distributor of OPPLE Lighting; an OPPLE Lighting employee who introduces the company and sends out the POS materials; and a local translator. In one month, the four groups visited a total of 400 dealers, among which 80% were new, with 50% of them ordering OPPLE products. In addition, OPPLE Lighting also dispatched a special team to follow the latest market trends and keep evaluating the campaign.
As a result of the intensive efforts of this campaign, numerous hardware dealers in Bangkok began to accept the LED products of OPPLE Lighting and like the Chinese brand with world-class quality at affordable prices. In addition, many of the dealers were highly interested in the LED retrofit project of OPPLE Lighting.
"Thailand Promotion Month" is OPPLE Lighting's first large-scale campaign targeting the Thai market. The success of the campaign indicates that OPPLE Lighting will become one of the most popular lighting brands in Thailand.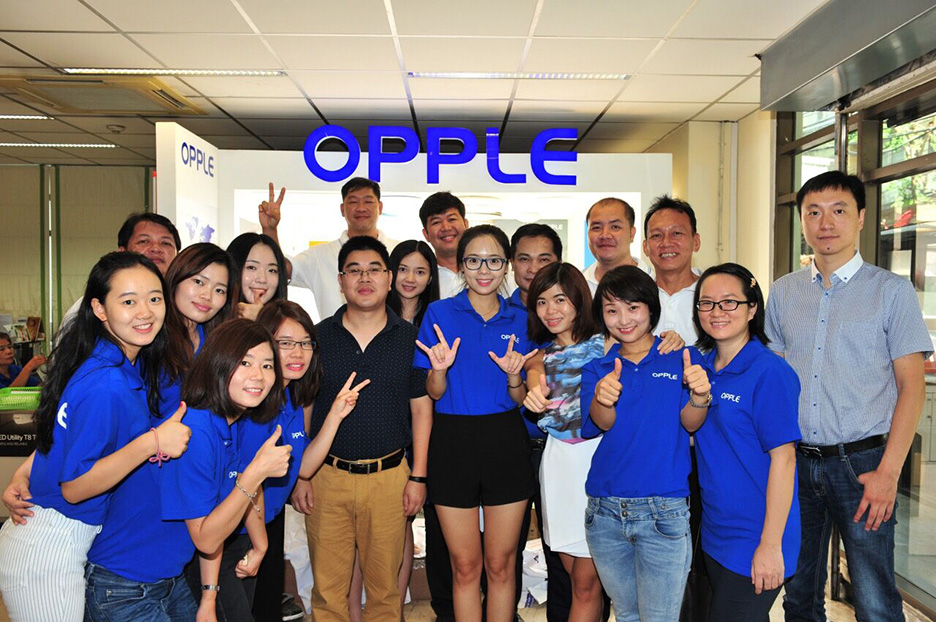 OPPLE held POS branding material giveaway and a joint promotion with Thailand EHV enterprise.